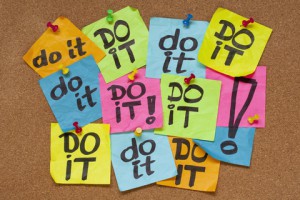 So, Why do I Procrastinate ?
There is not necessarily one simple answer to that question, as much depends on the personality and needs of the person asking the question. Granted, for some, they may procrastinate because there is no real desire or need to do whatever is in question. However, for many of the individuals I work with as a therapist, there may be another more compelling and obvious reason for their avoiding. However, no matter how obvious it may be to some, when a person is in a state of anxiety, the obvious easily becomes blurred.
Most of my clients come to me because they are experiencing significant anxiety, panic attacks or obsessive-compulsive symptoms. Rarely are their symptoms the result of some significant trauma, or a crisis that would be considered by most of us to be a serious threat to life or limb. To be sure, trauma or crisis can cause serious anxiety symptoms, but most often I have found the trigger for these symptoms to be personal conflict, some inner turmoil that they suffer through privately.
Many times, my clients are in conflict because they are not living their lives to the fullest measure that they desire or dream of, but instead find themselves settling, opting to be comfortable rather than stretch or test themselves. I call this being " comfortably-uncomfortable. I would expect many of you feel you are not doing all you hoped or expected to do with your lives.
So, I had this client ask me today, " Why would I procrastinate when I know I am not happy with my place in life, when my job is not fulfilling, when my social life is blah ? When I think about it, and the fact that one day after another goes by and I put off taking steps towards any of the changes we have talked about it therapy, I feel more and more anxious. I still put off doing anything about it."
What most often comes to my mind when I hear comments like this is… FEAR !Our lives are ruled by fear in many ways, some more evident than others. But make no mistake, FEAR RULES. Fear of failure, embarrassment, rejection, and even fear of success can be triggers for many of our negative, self-sabotaging thoughts.
Maybe you were one of the lucky ones who was "wired" like Steve Jobs. Possibly you were brought up in an atmosphere where taking reasonable risks was rewarded, meeting challenges head-on was second-nature and self-esteem was nurtured. Or, you may be one on many, I dare say the majority of persons who adapt but give up little pieces of who they are or want to be or withdraw and go numb when faced with significant changes or even mild to moderate challenges.
"Let's just play it safe, and not buck the system. Keep my thoughts and feelings to myself."
This young man I was talking to had actually stretched rather significantly in his life for a short period of time. While in therapy, we were able to identify needs and issues and laid out a game plan for action. He put himself and his level of self-confidence to the test by taking on some classes that he had always thought about but always put off. What did he experience as a result ? It was exciting ! Not only did he prove to himself that he could still master new knowledge, but he was also able to ask questions and make comments in his classes that seemed to open his eyes to the reality that he truly had potential to do more with his life. He felt validation from others which was definitely not what he was use to in his life.
So what was the problem ? The classes ended, and he returned to a boring job, one that helped pay the bills but did not really interest or challenge him. His short stint at this exciting new world of challenge gave way to his life's way of thinking that success is for the other guy. The thoughts that he was not good enough had been so pervasive throughout his life, that without consistent and persistent challenging of his negative self talk , his confidence and esteem hit the wall and slid down that slippery slope of "what ifs" and " what ever gave me the idea I could really do this ?"
Hopefully now he understands that he was on the right course, but that he has to choreograph his life so that he further develops reasonable goals with steps, and that he must practice stretching every day. Like physical exercise, one can wish to be in shape, but without persistent effort, muscle turns to flab, confidence turns to just being comfortably-uncomfortable……and anxiety flirts and plays with your thoughts, and not in a fun way.
We can take greater control of our lives, but dare I say, we must be somewhat obsessed with taking steps and desensitizing to our fears. This is not something you can do half-heartedly. You must face your fears, challenge yourself to the point that you can feel resistance and beyond without overwhelming yourself. If you do not feel some anxiety while making changes, there is little real growth. But by taking STEPS, you break the anxiety of change down into digestible bites instead of choking and giving in to your fears.
Do you procrastinate ? Why ? Care to share your thoughts ?
Gene Benedetto, Psychologist
Benhaven Counseling, LLC
Blog : RuledByFear.com
On-Line Support Group and Newsletter : www.OneStepAtaTime.com