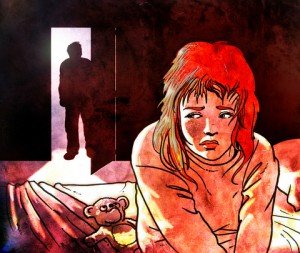 This trip to San Clemente was another eye-opener. I came here to spend time with my grand-kids, but also to research and work with organizations that attempt to help children who are being abused, emotionally, physically and sexually, and often all three. I have found some very active organizations that work hard to serve these children, and one in particular worth mentioning  is the Center for Community Services in San Diego. Of course, my talking about these kids or some of the special people who are out there trying to serve these kids in need does little to help the problem, because  most people are aghast when they hear about a child suffering abuse, but because it is so uncomfortable a thought, it gets shoved away somewhere in the deeper recesses of the mind.
On the other hand, if you would go to the CCSSD web site and actually go to one of their functions, actually ask questions and get involved, you may get hooked ! I am not talking about just throwing money at the problem, although that would help, but REALLY getting involved. No matter where you live, you can go to the National Coalition Against Domestic Violence website. So many who would abuse children get away with their heinous deeds because of the lack of outcry and support.
When there is domestic abuse, to me one of the worst types, it is often covered up by parents, or dealt with internally by the family without bringing in appropriate services. The issue is often that of not wanting to bring shame upon the family. " We thought we could handle it ", is what I have heard. While any child being abused is totally unacceptable, when it is a parent, sibling, or other relative who is the abuser, it is especially ugly and harmful because the abuse is done by someone loved and trusted. Think how that screws with the mind of a child. Who in the child's world can be trusted !!! How does it feel as an adult when one feels there is no one to be trusted ? But a child !!!
One of the last cases I worked with that is a horrible example of what can happen is a 19 year old who was raped on a college campus. Well, you might say, that is not a child. However, her reactions to the rape and the fact that the incident went unreported by the young lady because her father forbid her to say anything to anyone, sent off alarms in my mind. This young lady shared with me because there was no one else she could trust to share with, but all my attempts to find her therapy and appropriate guidance was met with, "No, my dad would kill me." Yes, my radar was functioning at full power and I gradually drew out of this child that she had been physically and emotionally abused by her dad since she was about fourteen, and within the last year, he began crossing the line sexually. In hopes that her father would eventually stop hurting her and love her again, she forbade me to expose him.
I cannot go into any more detail, first because this is a case I am still working on, and secondly because the details would turn your stomach into knots.
I was able to get her to leave her home and go to her Uncle and Aunt for protection, but even they could not deal with the evil behavior of her father. Out of fear and shame, they kept silent and actually allowed the abuse to continue under their own eyes. Without anyone willing to press charges, my hands were tied. This young lady ended her life at 20, as the only way to escape her abuser. I will forever be haunted by the fact that there was nothing I could do, but i would hope that a few of you may also be haunted by the picture that might be forming in your minds of this young lady's ordeal, and that you will get involved in your community. Contact CCSSD if in San Diego, or go to  the National Coalition Against Domestic Violence  and see what programs and services exist in your state, in your backyard, Yes, your backyard because domestic violence happens ever hour of every day in just about every community in our so-called civilized society.
Don't AVOID ! Do something that will add even more meaning to your life ! Do something to help protect these kids.
Gene Benedetto, Psychologist
Coach
Blog:  www.RuledByFear.com
Website/ Newsletter / On-Line Support Group : www.OneStepataTime.com